How Body Temperature Affects Mood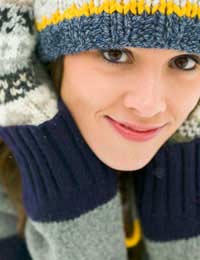 Many of us don't realise just how important body temperature is to our moods. Hot and cold alike can have a dramatic effect on how we feel and how we act so it is important to understand just how changes in our body and surrounding ambient temperature can affect the way we think, feel and relate to those around us.
What is Body Temperature?
There are those of us who think that body temperature is simply the measurement of how hot our blood is as it courses around our bodies. Our natural body temperature is 98.6oF (37oC) and this is when our bodies are working to their optimum potential. Body temperature, measured from a variety of different sources: the ear, the mouth, the rectum or underneath the armpit and may vary by 1oF (0.6oC) during the course of any given day. This is the body's way of dealing with a fluctuation in heat caused by more movement than normal such as running or walking quickly or carrying.
Why Do I Heat Up?
If you are too warm then the blood vessels which course around the inside of your body expand – this is referred to as dilation. When this occurs the dilation helps the excess heat rise towards the skin which in turn causes us to perspire. This is the body's natural way of dealing with too much heat and prevents us from falling under a fever.
Why Can't I Sleep if it's too Warm?
Quite simply when you are asleep the amount of movement your body makes is considerably less than if you were up and walking around although while you are asleep you will turn from side to side or move your arms and legs in a reflex action. The body – lying in the same position – expels perspiration which has nowhere to go and in turn soaks back into the skin causing the skin to feel clammy. The brain's natural reaction is to invoke a reaction which raises you from your slumber hence your inability to sleep.
Why Can't I Sleep if it's too Cold?
This is the same principle as waking up because you're too warm only in reverse. The blood in the human body pumps much more slowly when you are asleep and thus whereas the blood vessels dilate when you are awake they contract when you are asleep. Again the brain causes a reflex action designed to awaken you from your sleep so that you can compensate for this drop in temperature and avoid hypothermia. Contrary to popular believe hypothermia is just as common during the summer months as it is during the winter months as the temperature during the night drops considerably. In addition to this during our sleeping hours the body temperature is at its lowest around 3 or 4am; this s usually when we are in our deepest sleep.
Too Much Heat Makes Me Irritable?
There is an old saying 'It is easier to heat up then it is to cool down' and this is very true. The human body in conjunction with the mind will always try to find its optimum temperature and a failure to do this can lead to irritability, mood swings and physical effects such as dehydration and muscle spasms.
How Can I Ensure The Right Temperature All Year Round?
In the winter months a thicker quilt is always a safe bet. Quilts are measured in tog sizes so a tog of 10 is about right for winter nights. It is also worth ensuring that the thermostat in your home or office is set to slightly above the temperature outside.
In the summer months keeping a window open at night is a good idea. Leaving the bedroom door ajar is also a good way to ensure that the air circulates and passes through the room whilst a small fan on a bedside table or a pedestal fan helps to keep cool air moving. A thinner quilt is also a good idea as well as lighter clothes.
Also when it comes to fluids make sure you are taking plenty of fluids on board and although it is tempting to drink ice cold fluids in the summer and hot ones in winter, try drinking teas in the summer and cooler drinks in the winter to help maintain the body's temperature balance.
You might also like...