Pets and their Ability to Help You Relax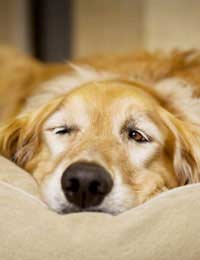 All across the United Kingdom there are thousands of households who own a pet. Whether it be a dog, cat, goldfish, bird or rabbit, these pets provide a welcome distraction from many of life's stresses and as such owning a pet can be as good a way to relax as any other.
What Sort of Pet Should I Keep?
That is entirely up to you; what sort of animals do you like? For many a dog is a wonderful companion, loyal, obedient, and able to sense your changing mood and to show affection without being asked. For others cats are an ideal pet as they are comforting creatures who like to snuggle up while you watch television and are independent enough not to require lots of walking or maintenance.
How Can a Pet Help Me Relax?
They say that a pet can help in aiding relaxation by simply being there. For individuals living on their own a pet can be a welcome companion who you can talk to (and many people do have conversations with their pets) and who asks nothing in return than for you to love them.
Pets can also come as a welcome distraction from the toils of the working day. For example owning a dog is a good excuse for some exercise and a long walk of an evening. Dogs love water so a trip to the beach (most people have a stretch of water of some description near them) is a good way to exercise your dog and also to allow you the opportunity to think and wind down.
I Live On My Own and Work All Day, Is Keeping a Pet a Good Idea?
Again this depends on the sort of pet you have in mind. For those people who spend a lot of their time at work then perhaps a dog is not such a good idea as they need regular exercise and toileting. A cat, goldfish or tropical fish are perhaps better ideas if you spent a lot of time away from home. Cats are as well have already mentioned very independent and as long as they have food and a litter tray (or a cat flap) can come and go as they please.
I've Never Owned a Pet Before, How Will I Know if it is for Me?
This is an important question and one you should give careful consideration to before purchasing a pet or taking one in. If you have a friend or family member who has a dog or a cat why not volunteer to look after them during the holidays and see how you feel about it. Many people find this a good way of assessing their ability to look after a pet and also assess whether or not they would make good pet owners.
Should I Buy a Pet or Go to a Shelter?
Again it depends entirely on what sort of pet you want. If it is a cat or dog then perhaps a shelter is a good place to start. Normally shelters will have animals that have already been housed and have come to them for one reason or another. It is worth considering though whether or not a re-homed pet is a good idea if you have children as some pets, particularly dogs, are jealous of children and this can raise issues of its own.
If you are interested in re-homing a pet contact your nearest RSPCA office for more details.
You might also like...