Everyday Meditation to Control Stress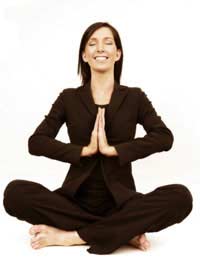 We lead such stressful lives that our responsibilities and commitments sometimes impact on our health and wellbeing. When this happens relaxing with a therapeutic massage may help to reduce tension and combat stress. Sometimes however, massage simply isn't enough to eliminate the daily pressures than we encounter. That is when meditation comes into it's own.
What is Meditation?
Meditation is an ancient discipline that involves quiet contemplation, whilst focusing your mind on a thought or on an object. Whilst you are in a meditative state you can examine how you feel about what is going on in your life in the present. Meditation offers an opportunity to examine and transform yourself, and to look at your life from another perspective.
The Benefits of Meditation
Promoting physical relaxation and inner calm, meditation benefits you as a whole person. The calming state you enter is good for the pulse and heart rate, whilst your energy levels increase naturally as your awareness becomes focused on your breathing and posture. Meditation allows you to relax deeply and to develop a better understanding of yourself. It also unites mind and body, improves concentration and helps you find peace of mind.
Creating an Environment for Meditation
You will need a quiet place that can become a meditative space for regular practice. Your space should be clean, naturally lit and clutter-free if possible. A hard-backed chair is recommended, but you may prefer to sit on a cushion on the floor. Having a blanket close to hand, is also a good idea, as you will be sitting still for a period of time and may feel cold.
Everyday Meditation
As little as five minutes meditation, every day, will make a huge difference to your wellbeing. As you begin to practice daily you may want to increase the length of time you are in a meditative state. Before beginning each session you should ensure you feel relaxed by breathing slowly and deeply. You can release tension in your body further by saying 'the muscles in my face are relaxing: I am relaxed', as you work your way from your head to your toes.
Once your mind and body are relaxed, and you are keeping a mental tally of your breaths, you will be entering another state of mind. You may want to visualise yourself crossing over a symbolic threshold, which will deepen your meditative state. In order to go deeper still, you can visualise yourself walking down a spiral staircase, using your senses to really imagine the experience.
Different Forms of Meditation
You may wish to use meditation simply as a means of achieving total relaxation and harmonising the mind and body. Or you may opt to explore Zazen, which is a Zen Buddhism central practice, and simply means 'just sitting'. Unlike standard/and beginner's meditation, no objects to focus on are required and you just observe what is happening to your mind. This requires a bit of practice however.
You can also meditate using colour – where you draw in the particular emotional qualities associated with a particular colour. Meditation can also be active, in the form of yoga or t'ai chi ch'uan, which integrate mind, body, breathing and movement.
You might also like...