Creative Ways to Help You Wind Down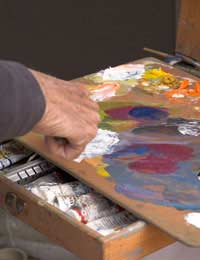 Winding down or de-stressing isn't simply a case of sitting in an armchair or putting one's feet up; sometimes there has to be an element of creativity involved to help keep the mind sharp and active whilst taking away from the burdens of the day.
There are lots of us who are creative and as such need to find something to do with our time other than simply sit around so filling that time with things we like to do and get enjoyment from also help alleviate stress, reduce anxiety and provide alternative therapies without us even realising.
Music
There are a lot of us who are musically very creative and who enjoy either listening to music or playing music. Depending on the type of instrument you play there can be a lot of energy expelled and a lot of the effects of stress done away with. People for example who play drums find that a 20 minute session on the drums can work wonders as a kind of stress management. Venting your anger on the drums whilst making some kind of music can have a positive effect and can help with stress reduction.
Painting
Painting is another good way of winding down; painting a landscape, a portrait or some abstract piece of art simply by splashing paint onto a canvass can help release that pent up inner stress and act as a therapy with something to show for it at the end. Painting of course doesn't simply have to be something you do at home; you could go out to a landmark of interest near you or a favourite beauty spot and paint. Whilst there not only are you gaining the benefits of the stress relief painting can offer but you are surrounding yourself with nature and beauty; two additional types of stress management.
Writing
Many people keep a diary or journal of their lives and this can provide them with an outlet for their stress. Writing things down allows you to process thoughts and emotions that were otherwise bottled up during the course of the day. Indeed writing can also produce an end production that might be of interest to others.
Creative writing allows you as an individual to vent your spleen and use this period of writing as a way to relieve anxiety; or if you don't feel fiction is your thing then why not simply write down the events of the day and keep them for future reference. You may find reading over them at another time acts as another form of therapy and could help you solve other problems in the future.
Poetry
Poetry can be both creative and therapeutic and seems to help a lot of people deal with a variety of different kinds of stress. Would-be poets often find that writing poetry about the events of the day or specific events can help them cope with problems that may have otherwise seemed insurmountable. As a method of managing stress and being creative Poetry is relaxing, liberating and most importantly can be born from any number of situations.
In conclusion many types of stress management and therapy work for many different people but for those of a creative nature the chance to express themselves in their own way are often the best kind of therapy. Whatever method of creativity you use it doesn't have to be for the consumption of others but simply for your own benefit although sometimes it has been known that out of the creativity experienced through times of stress beautiful and imaginative creations can emerge.
You might also like...