Understanding and Dealing with Stressors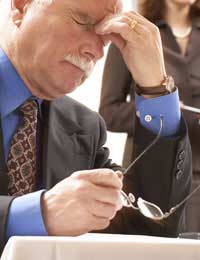 Each and every one of us during our working day - and indeed our lives sometimes outside of the workplace - have to deal with stress in all of its many forms.
Stress and the ability to deal with it are something we have to try and focus on as soon as it becomes apparent otherwise we can find that we slip into depression and ill health while stress takes a firm hold and renders us - in extreme cases - incapable of interacting with the world around us.
Understanding Stressors
What are stressors? Well stressors are those things - those tell tale signs - that reveal to us that something else is afoot. We may go through our working lives totally oblivious to these stressors but for the most part those people who suffer badly from stress can usually tell what it is that causes the stress. It is however their ability to manage this stress that can cause the problem.
Think about the things that cause you stress either at home or at work and then think about how you deal with that stress. Are you aware enough to do something about it at the time or do you let it build up and continue to build up until stress management becomes difficult in itself?
If you are one of the vast number of people who let work-related stress get to them then you should aim to identify the causes of stress as soon as possible.
What Causes Stress?
This may sound like a straight forward question but the answer is sometimes much more baffling. Stress is something that can happen in some people straight away or take time to build up, causing physical problems as well. Anxiety brought about by stress is another common problem and many people often compound their stress by trying to make those around them believe there is nothing wrong.
A busy lifestyle is often a sure fire way to bring about stress, dealing with problems of a financial or relationship nature, or simply not being able to cope with your busy workload. All of these are stressors and understanding and managing them is something that is important if you want to keep stress at bay.
I've Identified the Cause of My Stress; How Do I Deal with It?
Once you have made the connections as to what causes the stress the next step - and this is the most important step - is how to deal with it. Perhaps it is a minor problem that is causing you a minor amount of stress and simply making a few changes can alleviate it? But what if the problem is more severe?
Try first of all talking to a family member or close friend; sometimes talking a problem through can make all the difference and some feedback from someone detached can have a positive effect. Talking the problem through also gives you the chance to work through every aspect of it yourself.
Another good way of identifying the stressors is to make notes; write down the nature of your day and circle or underline the things that have caused you the most concern. You may find that you are underlining things that you didn't foresee as a problem or likewise things that you thought were a problem may not be as bad as you thought.
If the problem is work related it is a good idea to have a chat with a work colleague or employer. You will often find that if you are having difficulties then your employer would rather know so that they can help you and also prevent further difficulties. Remember no employer wants to have their staff off sick with stress so any help they can give they will.
Self Help Groups
If you don't feel you can talk to your employer, family member or friend, then you could always try a self-help group. Traditionally these groups are run and attended by likeminded individuals who will probably have endured the same stresses as you at some time in their lives and the chance to talk these problems through with others who understand is often invaluable.
Your local directories will list such self-help groups or contacting your local authority should provide you with some names to follow up.
You might also like...