Outdoor Stress Relief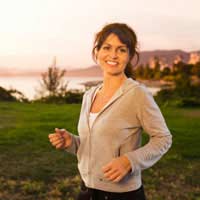 Many people struggle to find ways in which to relieve their stress and in failing to do so only seek to make send their stress levels soaring to the point where depression and illness soon take centre stage.
It is not simply a case of finding something to do that helps relieve stress but also finding somewhere to do it as well.
Take Long Brisk Walks
Many individuals enjoy the outdoors for reasons other than the beauty and the scenery; some enjoy the outdoors because it gives them a sense of release, a feeling of being away from that normally enclosed lifestyle that breeds stress and anxiety.
Family pressures and the pressure of work can seem claustrophobic if you are stuck indoors at home or at work so a walk in the evening if you are at home or at lunchtime if you are at work is often a good way to relieve tension.
It does not matter necessarily where you walk; you could be walking along a busy high street or in the middle of the country with the sun at your back, the idea of taking that walk is to walk away from the cause of the stress and anxiety and look at it from a distance almost. This can sometimes make all the difference.
Landscape Painting
It is one thing to enjoy the great outdoors but another to capture its natural beauty and your own feeling of calm and relaxation in a painting. You can paint on your own or as part of a group; the emphasis is to relax, let your mind and body relax, and to enjoy the scenery that surrounds us all.
Part of the stress and anxiety of everyday living is the speed at which things move; living in large towns or major cities can seem claustrophobic and sometimes too hurried. But there is much relief from stress to be had sitting on the side of a hill either by yourself or with a group and to simply let your hands and brushes take the stain.
Not only do many people find painting very therapeutic but allowing themselves to be creative can also open up avenues of under explored talent and meaning and it is something that if you are creative but tied down with the stresses and strains of a hurried lifestyle you should perhaps try.
Swimming
Not only is swimming a good way to exercise and keep the heart in shape, it is also an exhilarating way of relieving pent up stress and anger.
Even if you are not the most proficient of swimmers simply floating in the water – perhaps on an air mattress – can often help sooth away the stresses of the day.
Another way to relax even if you cannot swim is to relax by a pool or by the sea; the sound of the waves crashing against the shoreline can provide much needed relaxation and indeed many individuals who find that they cannot free up the time to visit a pool or the sea can relax in the comfort of their own home with a recording of natural sea sounds.
If you are not a strong swimmer but like the water you could take additional lessons; your local leisure centre or fitness club – details of which can be obtained by contacting your local council – will run swimming lessons for beginners upwards.
You might also like...