Using the Power of Mantra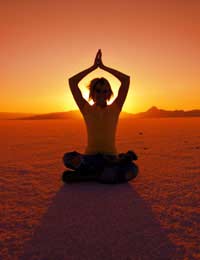 Using sound affirmations to increase personal power and awareness is an ancient transformative method, which originates in India. Mantras and chants have inspired and comforted individuals across cultures for thousands of years, and continue to do so. The simple chants – which can be repeated aloud or silently – are filled with energy and intention, and it is these powerful soundwaves that promote healing, insight and creativity.
What Is Mantra?
Mantra is a Sanskrit word, which roughly translated means 'divine speech'. Mantra can help you feel more energised or calm, and can help you shift your focus if you are coping with a difficult situation. It can also help effect physical healing and enable you to draw your wishes towards you.
Mantra is universally accepted as a highly effective method of clearing away obstacles from your life. The gentle rhythmic chant of Mantra settles in the consciousness and has the ability to soothe, heal and create internal power. Every culture recognises mantra's power and acknowledges its essence of spirituality. The ancient Vedic mantra teachings accept the law of cause and affect – or Karma – which states that 'what goes around comes around'. It is thought that the power of mantra balances good and bad karma, and enables us to free ourselves.
The Healing Benefits of Mantra
It may seem difficult to believe that softly chanting a series of sounds can have a positive effect of your wellbeing. The vibration of the sounds however, generate a change in the energy centres – Chakras – which increases an individual's spiritual energy level. This also balances the female and male energies that flow through our body. Used with visualisation mantra becomes a powerful force that encourages self-healing.
How To Use Mantra
Using mantra requires no special skill or understanding. It is simply done by rhythmically chanting, or speaking, a particular mantra over and over again. It is recommended that the mantra is repeated for a period of time, or for a number of complete cycles. This will vary according to which mantra you have chosen to work with, and by the expert advice provided in the mantra material you have researched. Generally though, a mantra is chanted for a daily period of 20-30 minutes for 40 days.
It is important to set aside a particular time of the day when you will be able to fully engage with your mantra practice. Some people also like to find a special place where they can still their mind to focus completely on mantra. However, what is most important is that you do not allow outside, everyday interruptions to shift your focus. Mala or Rosary beads can also be used, as counting the mantra cycles you chant, by holding a bead, may be easier for some people to maintain focus.
A Mantra For Abundance
Before beginning a mantra you must clearly define your intention, for the mantra, by writing it down on a piece of paper. Writing your intention down will help you focus on the reason for your mantra meditation. To help attract the positive energy of abundance the following mantra can be repeated:
Om Shrim Maha Lakshmiyei Swaha (Om Shreem Mah-ha Lahksh-Mee-Yei Swah-ha)
You might also like...