Yoga and Stress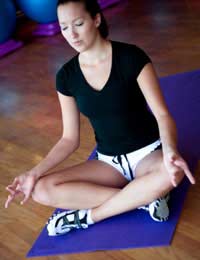 Yoga is another of those complimentary therapies that has been practised through the generations by many different cultures and in many different forms.
What is Yoga?
Yoga can be best described as a state of mind somewhere between being awake and being asleep and it should be practised in a completely relaxed environment to allow the mind to take full advantage of this state of relaxation.
It is a dynamic state of sleep and in this so-called 'Threshold State' it is said that contact between the unconscious and subconscious can occur. During this time the mind is at its most suggestive.
How Does Yoga Work?
Yoga allows the mind to be open to suggestion without the individual being in a state of Hypnosis. During this state of suggestive thought the mind is open to ideas that in a conscious state an individual might not be able to relate to. For example, many people who suffer from stress find it difficult to relax but whilst in this state of mind, brought about by the practice of Yoga, they can find that they are more susceptible to the idea of relaxation and calm.
Practitioners of Yoga say that in this state of mind relaxation a progressive period of awareness takes over and allows for the clearing of the nervous system and its connections to the brain, as well as bringing about a state of physical relaxation. Simply put, Yoga relaxes the brain by first relaxing the body.
Yoga should be practised alone in a room with minimal light and the room should be free from distraction or interruption. Classes are run throughout the United Kingdom but it is possible to practice Yoga in the comfort of your own home.
Choosing a 'sankalpa', which is a positive resolve such as 'I will not stress myself', this is repeated several times once the individual has reached the suggestive state and acts as a message of autosuggestion.
What is it Used For?
Yoga is used mainly as a means of relaxation and in turn as a way of reducing stress. Given that the process in aimed at placing the individual in a state of calm, it is a very common form of alternative therapy used in the treatment of stress and many people who use Yoga as a means of relaxation have reported their stress levels have dropped considerably.
In addition to the relief of stress it has also been said that Yoga can reduce high blood pressure – itself a firm indicator that stress levels are high – as well a reduction in hypertension and migraine headaches. Again both Hypertension and Migraine headaches are themselves common indicators that an individual can be suffering from high levels of stress but it is worth nothing that in some instances, sufferers of migraines do not necessarily suffer from high levels of stress.
Whatever your reason for participating in practice of Yoga, it has to be said that many of those who do practice it have said that it has gone a long way to reducing the amount of stress and tension in their lives and also provides them with a good means of relaxation.
This in itself is of great emotional and physical benefit as many people who struggle to relax find themselves at the mercy of stress simply because their minds refuse to allow them to wind down. It must be said that any alternative therapy that allows a highly-strung individual to relax and feel calm should be taken seriously and given serious consideration as an alternative to medication.
You might also like...