Stress and Expectant Mothers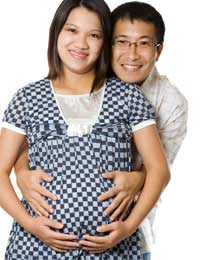 Having a baby is one of the most important events in a woman's lifetime and, as well as being a time of great joy, it can also be a time of great stress.First time mothers are prone to stress and high blood pressure and this is in no small part due to the fact that they do not know what to expect both during the pregnancy and the birth.
Many people cite child birth as a very trying time as whilst others will tell you that it was one of the most joyous experiences of their lives. Both of these statements are true but what is also true is the fact that what is a stressless act for one person can be a very difficult one for another.
Stress When Pregnant
Often first time mothers will find that levels of stress are increased during pregnancy because of demands on their life in the workplace. Many first time mothers feel that trying to hold down and job until it is time for their maternity leave can be very stressful because they have double the amount of things to worry about. Indeed many expectant mothers will now work up to and beyond the designated time of their maternity leave to ensure finances do not suffer. And likewise after the birth many career-minded mothers will return to work perhaps earlier than normal and this is also a highly stressful time.
Stress levels are also at a premium when it comes to dealing with the medical issues of a pregnancy. Every mother wants her child to be healthy when it arrives into the world but for mothers who have experienced health issues in the family this can be a very trying time. Some mothers find themselves becoming extremely stressed considering the prospect that there might be a problem with their child when in actual fact this is not likely to be the case at all.
The Benefit of Antenatal Classes
It is now widely accepted that expectant mothers – and indeed their partners where possible – attend antenatal classes. The aim of these classes in the room up to the child's birth is to acclimatise the expectant parents to parenthood and also to help both parties cope with the birth itself.
Many mothers expect when they are having their baby that the father be present at the birth and this can be very stressful for the father: men more than women do not know what to expect and find this period of time very stressful.
Antenatal classes also help expectant mothers deal with the stresses and strains of pregnancy. They offer advice on how the pregnancy should take place – although this is obviously ultimately the parents' decision – and can show both parents how to control their breathing and how to guide each other through the whole procedure.
Important People
Also, during this period, a midwife will be allocated to the expectant mother and she can be a good source of advice and information. Most midwives will be present at the birth to continue offering advice right through to the end and this is invaluable for mother's to be.
The best source of advice and help is the expectant mother's own mother who will have had her own experiences of child birth. It is important to remember that every mother's experience of childbirth is different but there are some things that remain the same. But more importantly every mother's experiences have led to a wealth of knowledge that can be drawn upon if needs be.
Taking Care of Yourself
During pregnancy it is important to look after yourself as a mother to be. There are exercises that can be done which are not strenuous but can help to reduce cramps. It is also wise to consider your diet as well.
Breathing exercises are also important and not just when it comes to the birth itself. These breathing exercises can also be used as a means of reducing stress levels after birth as well.
As a note to expectant fathers; it is important to show love and affection to both your wife and your child once the child has been born. Many fathers – and quite rightly so – will find themselves very enthusiastic about the birth of their child but in their excitement and proud state can forget sometimes the stress and strain that has been brought to bear on the mother.
It is important to remember that a stressed mother is indicative of changes in the body's natural rhythm. Hormones become highly charged and changes in mood diet and constitution are all important factors in stress.
It is important also after the birth that the mother is afforded the time to sleep or indeed just rest; especially if they choose to breast feed their child. The stress of having a child can be physical as well as emotional.
You might also like...